The Book of Grace had a moment where Grace, a diner waitress, carried a tray of food across the stage. She started out with a hamburger we had in stock. The director wanted us to add some french fries. To the French Fry Machine!
Natalie Taylor Hart took on this project. She began with an old scrap piece of upholstery foam. She set the fence on the bandsaw and cut thin strips out of the foam. She then ran these strips through the bandsaw again to get long bars of foam. Finally, she cut the bars to a variety of lengths, leaving the edges at a variety of slight angles to keep them from looking artificial.
Since the piece of foam was fairly old, it was turning yellow in areas. Natalie used a can of yellow spray paint to add color in the rest of the areas. She did not completely coat the fries with a single color; the variety of tones on a single fry help give it more realism. You can see the fries in this state in the photograph below.
She next used a shade of brown acrylic paint to add the "cooked" (and burned) parts of the fries. This is the part where subtlety and artistry (and a good reference photograph) help make the fries seem real. None of the fries should look the same. Fries tend to turn browner on the edges, or toward one side. She also made some of the fries browner than others.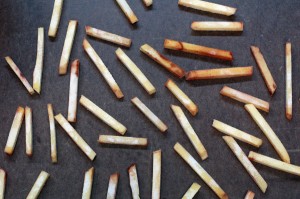 For her final step, she dabbed some artist's gloss medium onto the lighter parts to give the fries a greasy highlight.
I arranged the fries on the plate, and then secured them into place with several dots of hot glue. Order up!