The following is the press release for an exhibition I am a part of:
Props and Fine Art From Movies, Television & Theatre and Working Objects: Props by Ross MacDonald Open at The Beard & Weil Galleries, Wheaton College, Norton, MA
March 1 – April 13, 2018
In film, television and theatre, a hero prop is any item intended to be held or used by one of the main actors. Examples of hero props might include Shylock's money box, as used by Al Pacino in The Merchant of Venice at New York's Public Theater; the Red Apple Tobacco tin used in Quentin Tarantino's film Hateful Eight; or the Mendl's chocolate box from the film The Grand Budapest Hotel.
All of these objects, plus watercolors from La La Land, sketches from Moonrise Kingdom and other beautiful works of art, appear in Props and Fine Art from Movies, Television and Theater and Working Objects: Props by Ross MacDonald, opening in the Beard & Weil Galleries at Wheaton College in Norton MA, March 1 through April 13, 2018.
On March 1 from 5:00 to 6:00 pm, Haas Visiting Artist Ross MacDonald will give a talk about his work, followed by an opening for both exhibitions from 6:00 to 8:00. The public is invited to attend.
Curator Elizabeth Keithline commented that "prop makers are required to make objects that integrate perfectly into the action, both historically and aesthetically. Prop makers often have deep background knowledge on their subject, yet to create something that would take audience attention away from the action would be the worst kind of mistake. Hidden in plain sight, the props and artwork in this show often remained unnoticed by the audience, yet they drove plot completely."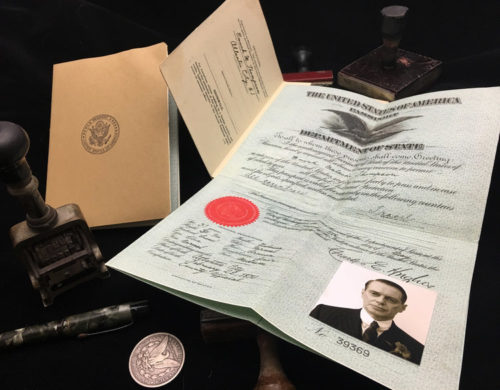 In the Weil Gallery, Working Objects
Ross MacDonald illustrates for Vanity Fair, The New York Times, The New Yorker, Newsweek, Time, Spy and Rolling Stone. He has authored and illustrated 4 children's books, as well as the adult humor books In and Out with Dick and Jane, (with co-author James Victore) and What Would Jesus Craft?. MacDonald recently designed the bandana worn by Justin Timberlake in the 2018 Super Bowl halftime show.
Yet all the while he has led a secret double life designing and fabricating props for over 40 movies and television series. He has made everything from the book Bradley Cooper's character throws out the window in Silver Linings Playbook, to the titular Book of Secrets for the second National Treasure movie; Jennifer Lawrence's mop patents for Joy; baby's favorite book in Baby's Day Out; Nucky Thompson's checkbook and Arnold Rothstein's calling card for Boardwalk Empire; the morgue toe-tags in The Knick; the Pawnee town charter for Parks and Recreation; the Red Apple Tobacco tin in Tarantino's Hateful Eight; Versace's book in the latest season of American Crime Story and thousands of other props. For more information: https://www.ross-macdonald.com/.
In the Beard Gallery, Props and Fine Art from Movies, Television and Theater
Annie Atkins specializes in graphics for filmmaking, which means that she makes any graphic pieces outlined by a period film script—like postage stamps and banknotes to help create Wes Anderson's fictional State of Zubrowka in the Grand Budapest Hotel; or shopfront signs and fake passports for Steven Spielberg's New York as depicted in Bridge of Spies. Other films she has worked on include Box Trolls, Wonderstruck and Isle of Dogs. For the Mendl's chocolate box exhibited at Wheaton, Ms. Atkins also credits the artists Wes Anderson, Liliana Lambriev, Jan Jericho and prop master Robin Miller.
Buist Bickley – According to Crains New York Business, "Bickley is one of the most in-demand prop supervisors on Broadway." Current productions include Spongebob Squarepants, Frozen, Charlie and the Chocolate Factory, Dear Evan Hansen and Fun Home. In the February 4 Playbill, Bickley was quoted as saying "Picture frames, rugs, chandeliers, sconces, any picture on the wall—those are all props… I always say that the ceiling, the floor, and the walls are sets. Everything that makes it what it is, is a prop."
Jay Duckworth is props master at the Public Theater in NYC. In over three decades in theatre he has worked from an old Mule Barn up to Prop Master on Hamilton. He's founded the Prop Summit for all properties people to meet, network and learn; given keynote speeches for KCACTF and USITT. He is currently curating the first Props Lab at USITT's National conference, he is a contributor to Stage Directions Magazine and is a Professor at Pace University. Jay's website, the Proptologist, can be explored here: https://www.proptologist.com/.
Eric Hart has been building props for theatre, opera, retail display and other industries since 2003. He is currently the props master at Triad Stage in Greensboro, North Carolina, and a professor at the University of North Carolina School of the Arts. His props were built for theatres both on and off-Broadway, New York's "Shakespeare in the Park", the Santa Fe Opera, and the Actors Theatre of Louisville, among others.
Eric also writes about building props and other things. He is the author of The Prop Building Guidebook: for Theatre, Film, and TV, and The Prop Effects Guidebook and writes regularly for his blog The Prop Agenda: https://www.props.eric-hart.com/.
Randy Lutz is the Properties Director for the Santa Fe Opera, where he has held various positions since 1979. Lutz often presents workshops at regional and national theatre festivals and conferences. Lutz serves as a responder for allied crafts and prop construction and design for the Kennedy Center American College Theater Festival.
Under Randy's direction, the heads on loan from the Santa Fe Opera were created by Anna Warren, Hannah Shoemaker, Robin Lu Payne, Eileen Garcia, C. David Russell, Chastity Collins and Nancy Allen.
Carl Sprague is a designer working for film and stage as well as special, site-specific projects. Career highlights include art direction on The Royal Tenenbaums, concept illustration for Academy Award Winners The Grand Budapest Hotel and Twelve Years A Slave. Carl is currently developing a feature adaptation of Edith Wharton's 1916 classic Summer.