The following comes from a 1901 magazine article. Part 1Â and part 2 were published previously:
In making human heads the artist plays a very important part, being able with his brush to present them old or young, ugly or becoming, with the same foundation. The old "big-head" of pantomime is practically now obsolete, being replaced by a much lighter mask made in three pieces. Masks that at one time weighed ten pounds now scale only two and a-half. There are also half-masks for animal impersonators, such as Mr. Charles Lauri. The mask fixes upon the lower part of the head and works with elastic springs, moving with the movement of the wearer's mouth. The upper part of the face is "made-up" to represent the animal being impersonated.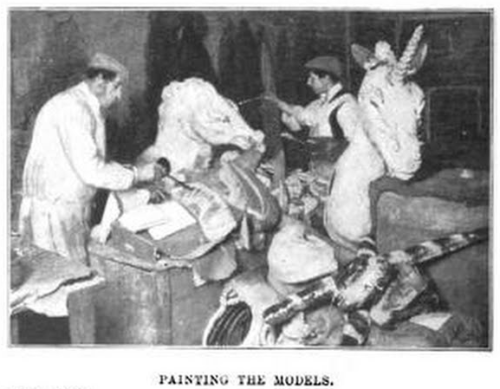 But perhaps one of the most skilful "properties" ever turned out is the "Blondin donkey." This was first roughly designed on paper, giving details of the interior arrangements. The performer for whom the dress is intended has to be measured in almost the same way as a tailor measures for a suit of clothes. Much depends upon the accuracy of the figures—the length of the back, arms, legs, and girth. The head is made of papier-mâché, and the body of baize, the latter being padded in such a manner that when the wearer dons the dress it is a close fit and there is no room to fall about inside it. The padding also protects the wearer in case of rough-and-tumble usage. The back-legs of the donkey are worked with the legs of the man, but the front-legs of the animal are fitted with crutches reaching from the feet to the knees. On these crutches the man rests his hands and moves the legs about at will. The mouth, eyes, ears, and tail are worked by means of strings communicating with the man's hands. Other animals are made on similar lines, the elephant requiring two people to work it.
There are many tricks dear to the "knockabout" which make a call upon the ingenuity of the property-man, and in which padded wigs and padded clothing play an important part. One man hits another over the head with a chopper, leaving the latter apparently sticking in his skull. The wig is padded with cork, in which there is a groove, that receives the chopper.
But one might go on enumerating like instances of the skill of the property-man for an indefinite period. To put it briefly and comprehensively, he is always equal to any call  upon his services.
"Preparing the Drury Lane Pantomime." Illustrated London News and Sketch 25 Dec. 1901: 372. Google Books. Web. 11 Apr. 2017. <https://books.google.com/books?id=I5hRAAAAYAAJ>.