Another blog has pointed me to The Prop Store of London, which has started selling a selection of props from Stargate SG-1. They actually have props from hundreds of films, but if you're more interested in those, you are strange and uninteresting.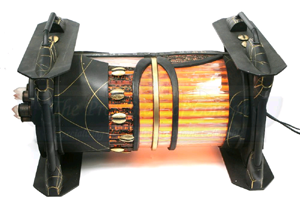 Many of the props have wonderful detail shots as well.
This specific device even has a detail shot showing the back with the wiring.
There are good descriptions as well:
This large heavy piece is made of wood, metal and resin. It has gold accents wrapping around the sides, silver glyphs painted on the top, as well as crystals sticking out of one side. The orange core inside can be seen through clear pieces of plastic to show the internal workings. When plugged in to a power source, the internal core glows orange.
Good stuff. All this for just $1,995. It's a great site if you're interested in collecting original movie props (and have the money!), but I find it fascinating to really delve into the construction techniques for a great variety of props in various films.
In addition to props, prop replicas, and wardrobe items, you can also peruse a nice-sized collection of production art. I like to browse the prop drawings.
It's really great when you can find a behind-the-scenes view of films which focuses so thoroughly on props.