Tech rehearsals for the Public Theater's production of King Lear start this Thursday, and we are busy as ever in the props shop. My life is busy as ever between writing my book, preparing for Lear, tech rehearsals for Mike Daisey's The Agony and the Ecstasy of Steve Jobs, and some minor revolution in New York City. So I don't have much to write, but I do have a sampling of photographs of some of the props we are constructing for King Lear.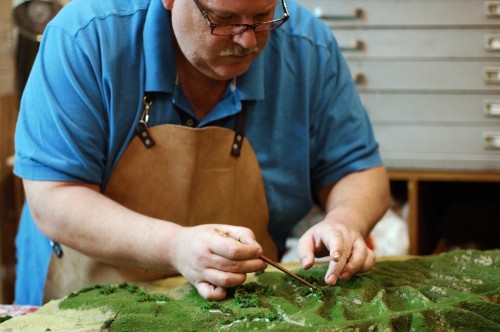 The "map" in our production is a tabletop topographical model of Lear's kingdom. King Lear, played by Sam Waterston , actually kicks the whole table over, and pieces of the map break off. At least, that's our goal. Besides Jay, a lot of the work has been undertaken by Fran Maxwell, with some help by Sara Swanberg and Raphael Mishler.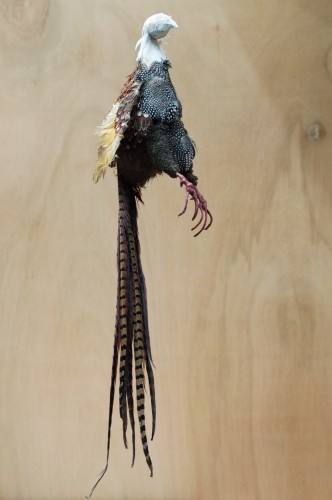 We need a variety of dead game for Lear's men when they return from hunting. After last spring's Timon of Athens, I already knew we had nothing decent in stock nor anything worth renting in the city, so we had to make some. Pictured above is my first attempt at building one from scratch and covering it in hackle pads and feathers. We then found complete pheasant hides, so we started using those as coverings, which freed us from having to glue individual feathers all over the bodies.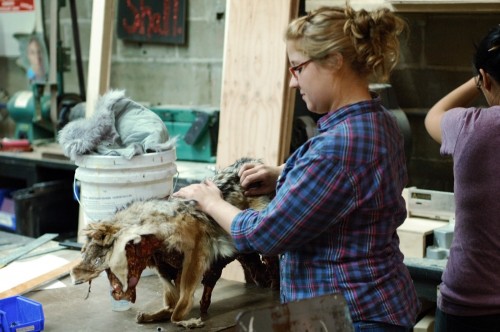 In addition to the pheasants and some rabbits, they wanted a larger dead animal as well. We gave them my fake dead lamb for rehearsals, which longtime readers may remember from last year. We then located the hide of a jackal which turned out to be nearly the same size as the lamb, so rather than construct a new dead animal, Sara Swanberg just set off covering the lamb with the jackal hide.
We have more cool stuff coming up, such as Michael McKean's eyes which get torn out of his head. That should be quite a sight!