About a year and a half ago, I worked with The League of Extraordinary Thespians to make a Master Sword for their Legend of Zelda musical. It was a fun project, but I had very little time or money to do it; I thought it was a bit blocky, and the paint treatment was very rudimentary. Since I gave all the original swords away, I decided I would make a new one with some improvements for myself.
I filmed nearly every step of the process and edited it into a six-minute video.
I made the blade out of wood again; on the original swords, I used plywood, which does not really make a convincing faux metal. This time I went with a solid piece of oak. After priming and sanding it, I used some Krylon Stainless Steel spray paint, which, after rubbing it with some steel wool, makes a very convincing metallic finish.
I decided I would make the hilt as a separate piece, then mold it and cast it directly onto the blade. I wanted a strong connection between hilt and sword that would not break when you played with it. Another reason was that the hilt was a very time-consuming piece, and I wanted the option of making more swords in the future.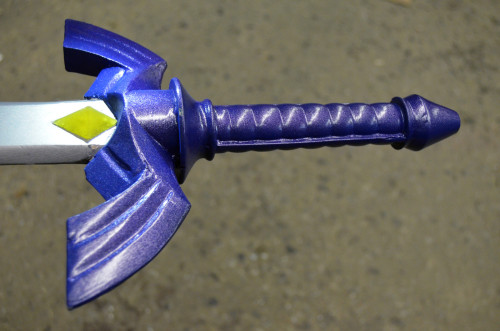 Casting the hilt directly onto the blade was a very challenging and hairy process for me. Despite how awesome I seem, I do not have much experience with molding and casting. The process was far from perfect, but the end result was pretty satisfactory (though you can see some wibbly defects in the picture below).
I also tried sculpting the quillons out of clay, which is not something I typically do. I used an air-drying clay that was way too soft; if I were to try this again, I would look for a much harder clay. In fact, I would probably be tempted to carve most of it from a solid chunk of wood.
The yellow jewels were a separate piece which I cast in tinted epoxy. I made a video showing the mold-making process on that a few weeks back.
I finished off the hilt with a purple shimmering metallic spray paint. All in all, I was happy with how this sword turned out, and I learned a lot from the process.