This past Saturday, I headed out to Efland, NC, where Dick Snow was teaching blacksmithing. It was another meeting with the Alamance Makers Guild (the same group that visited Roy Underhill's shop last week). I've done various metalworking projects before, but never straight-up blacksmithing.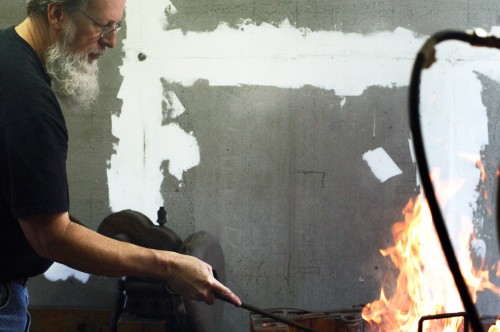 Dick had his coal forge fired up that morning. He also has a propane forge. He was telling us that while a propane forge does not need tending like a coal forge, a coal forge can get much hotter. You need that extra heat if you ever want to forge weld. We weren't doing any of that, though; our lesson that day was making nails.
Dick teaches nail-making to new blacksmithers because it encompasses three of the basic techniques used in almost every blacksmithing project; drawing the steel out into a taper, cutting it to length and hammering it to give it a head. In the photograph above, you can see him cutting a red-hot rod on a hot-cut hardy. Sometimes called just the "hardy", this tool is basically a wide cold chisel that sits in the anvil's hardy hole. The tool sitting on the left of the anvil is the nail header. Because the nail is tapered, it only fits through that square hole to a certain point. You cut the rod a little above that point, then smash it down with the hammer into a mushroom-shaped head.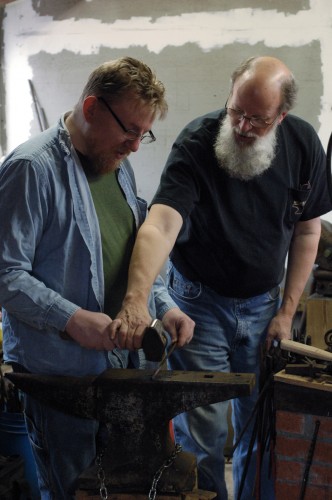 I would say the trickiest part of blacksmithing is all of it. I usually think of metal as the material you use for precision machining, and other materials are used for more organic and artistic construction. Blacksmithing, on the other hand, is where metal is used like a fluid, sculptural material. Even something as simple as making a nail is difficult to do consistently, at least at the beginning. I made about 6 or 8 nails, and none of them matched each other.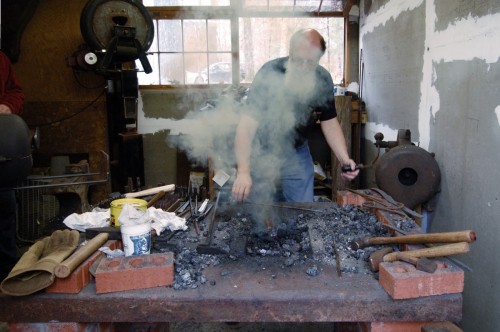 I've often thought it would be cool to use hand-forged nails in the furniture I build. You can find plenty of plans to make your own forges online, all the way down to a tiny brick-sized forge which can only make nails.