Last week, I shared photographs of some of the historic props at the Victoria and Albert Museum in London. One additional artifact in their collection is this account report for the stage prop expenses incurred during three shows at the Theatre Royal, Drury Lane, in 1716.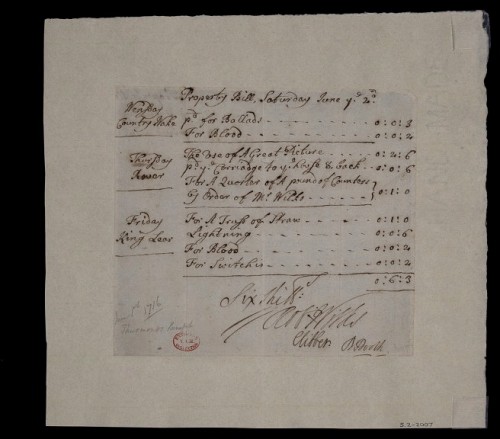 The text, as best as I can decipher, reads:
Wednesday, County Wake
paid for Ballad, 3 pence
for Blood, 2 pence
Thursday, The Rover
The use of A Great Picture, 2 shilling and 6 pence
paid the Carriage to the house & back, 6 pence
For A Quarter of A pound of Counters by Order of Mr. Wilks, 1 shilling
Friday, King Lear
For A Truss of Straw, 1 shilling
Lightning, 6 pence
For Blood, 2 pence
For Switches, 2 pence
The final total for the three days of performances is 6 shilling and 3 pence.
The bill is signed by the three managers of the theatre, Robert Wilks, Colley Cibber and Barton Booth (no relation to Edwin and John Wilkes). There is additional text added in pencil that reads, "June 1st 1716 Thurmond's Benfit."
A few months ago, I posted a magazine article which listed a tongue-and-cheek imagining of some of the props stored backstage at the Drury Lane Theatre in 1709.